We are proud to be NSW Public Education's CHARITY OF CHOICE.
Public schools across NSW and the ACT have assisted Stewart House with fundraising for over 90 years. This provides a vital income stream for us.
---
Stewart House Day
Stewart House Day usually falls around the same time each year, and most schools use it as a focal point for fundraising.  It coincides with Stewart House's annual presentation ceremony, where significant contributions from the previous year are honoured. It is also the time when our annual donation drive draw comes to a conclusion.
We ask all schools, large and small, primary, secondary and special, and their communities to organise special fundraising activities for Stewart House during this time. However, this does not preclude schools from undertaking Stewart House fundraising at other times during the school year.
Our Fundraising Toolkit provides useful content and resources to help with promoting your events, including photos and a QR code for mobile payments.
Following are just some of the many ways to support Stewart House throughout the year:
---
Donation Drive
In Term 1, our Donation Drive envelopes are distributed to all public schools across NSW. Entry into the draw is only $2.00 for your chance to win a great prize valued at $4,000.
We would like to thank the many schools that support our Donation Drive each year. As NSW public education's Charity of Choice, we depend on school fundraising support to help run our program.
For more information, please see the 2023 School Fundraising Pack.
* Competition terms and conditions are available here.
---
Merchandise
The latest range of high-quality Stewart House-branded merchandise is colourful, interactive, fun, and available for quick purchase below. Our merchandise items provide an excellent opportunity for schools to fundraise for the Stewart House Program through the support of the wider school community.
There are two payment options available to schools:
Purchase Order – Pay via the DoE finance system (EDConnect). The Stewart House vendor number is 100010992.
School Pcard – Select from items below to "Add to Basket" and pay via our shopping cart.
---
Donate via ReCollect
You can support Stewart House by arranging a fundraising bottle drive
We are pleased to be partnering with ReCollect (a door-to-door bottle collection service) on a container recycling mission with a fundraising twist.  Instead of disposing of your bottles and cans in a regular recycling bin, you can collect the containers and support Stewart House by arranging for a fuss-free pickup by ReCollect. It's easy and free! Best of all, by nominating Stewart House to be your benefiting charity, a full 10c from each container will be donated to helping children in need. Here's how:
Download the app and book a pickup using
Place your bags outside
Donate to us!
ReCollect will allow everyone to donate directly to our organisation with ease. Spread the word in your school and community!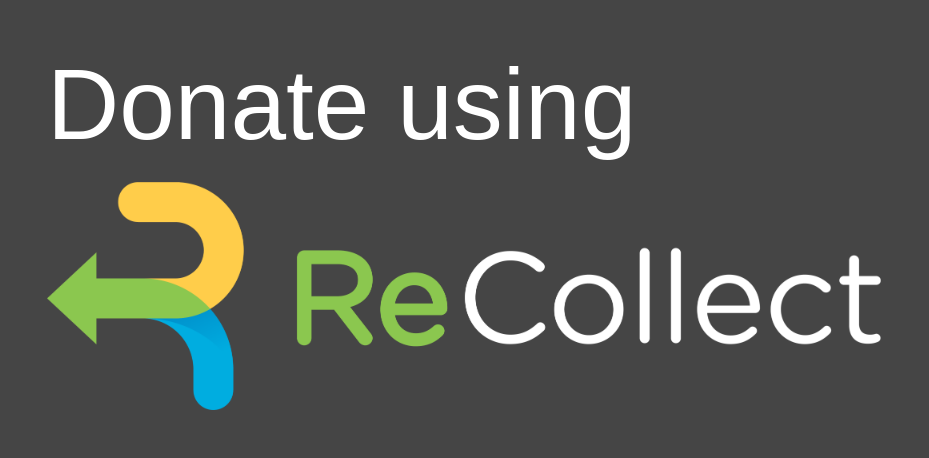 ---
Awards Presentation Ceremony
We host an annual Awards Presentation Ceremony where significant contributions from the previous year are honoured in an on-site event.
In 2021, we continued with our virtual celebration during the COVID-19 pandemic. We invited award recipients in our Schools category to share a photo of the award on display in their school. We invite you to view the fabulous entries in our online Appreciation Feature.
---
The Smith Family – Clothing Appeal
UPDATED: January 2020 – A note on the end of an era for clothing collections by The Smith Family
In 2020, The Smith Family will cease its Recycling Operation and will no longer support clothing collections.
Stewart House has worked in partnership with The Smith Family for almost 70 years on clothing drives run in NSW schools. As this longstanding partnership comes to an end, we would like to thank the wider school community for their support over the many years.
As part of our unique arrangement, The Smith Family generously provided bags and undertook the task of collection from schools. Stewart House was then paid for each kilogram received. We were grateful for some $18,000 raised each year from this collection.
We sincerely thank The Smith Family for supporting Stewart House and our vital role in the lives of children-in-need from public schools. Though we will miss our partnership, we wish The Smith Family every success well into the future.
---
School Events
We continue to be impressed by the many creative ways in which schools raise money for Stewart House.
Traditional Stewart House fundraisers from schools include:
Mufti Day for $3.00, with each child given a Stewart House handball.
Mufti Day for gold coin donation, with each child given an entry into the Stewart House Donation Drive.
Draw the outline of the Stewart House logo on the ground in chalk and fill it with coins.
Challenge each class to create the longest line of 5c pieces.
A handball competition with the Stewart House high bounce handballs.
Dress as an 'S' day for Stewart House. Other activities such as pyjama mufti days, sausage sizzles and ice-cream stands.
More ideas…
Book fairs: Foster a love of reading.
Movie night: Pick a popular movie and sell tickets to students and staff. Set up a concessions stand (or maybe a bake sale) and raise extra money by selling popcorn, drinks and snacks.
Lemonade stand: Offer up a selection of cold drinks. This fundraiser is especially good when summer and early autumn weather is still hot.
School garage sale: Need to get rid of a few things around the house? Whether it's spring cleaning or just an annual clean-up, having a garage sale at school is an easy way to earn money while jettisoning various items.
We are here to help and support you!
To assist you with your fundraising activities, we have developed a Fundraising Toolkit to share some additional resources that will help make your fundraising a success.
We would love to promote your school events in support of Stewart House on our Facebook page. If you would like to share details and photos, please email our Marketing Executive, Olga, at olga@stewarthouse.org.au.
---
Workplace Giving
Stewart House Salary Contribution Scheme
Encourage your colleagues to sign-up as regular donors. Just $5.00 a fortnight will fund one full day of a child's stay. Since 1931, Stewart House has relied on public educators' personal financial support to provide appropriate programs addressing health and wellbeing issues in the neediest of students attending NSW public schools. Sign-up here.
Contact Us
For more information about Stewart House school fundraising, please get in contact with our Fundraising Executive, Joanne, at joanne@stewarthouse.org.au.